Implementación del "Kaizen-Innovación de Procesos-Jidoka" para hacer frente al COVID-19: un caso de estudio en un hospital público
Palabras clave:
kaizen, innovación de procesos, jidoka, hospitales públicos, Covid-19
Resumen
Los hospitales públicos de México están viviendo grandes problemas operativos, tales como fallos en los procesos y servicios, además de errores en la falta de insumos y equipo médico. Algunos hospitales han iniciado esfuerzos basados en la filosofía kaizen para mejorar esta situación. El objetivo principal de la investigación es explorar la implementación de la filosofía kaizen en hospitales públicos mexicanos. La metodología utilizada en esta investigación fue cualitativa, con la estrategia del caso de
estudio. Los resultados encontrados en esta investigación son que es factible optimizar el proceso de urgencias y el de atención a la Covid-19 aplicando técnicas de la filosofía kaizen, innovación de procesos y jidoka.
Descargas
La descarga de datos todavía no está disponible.
Citas
Abadallah A. B. y Alkhaldi, R. Z. (2019). Lean bundles in health care: a scoping review. Journal of Health Organization Management, 33(4), 488-510.
Arredondo, A. (2001). Federalismo y salud: Estudio de caso sobre el sistema de salud en México. Forum of Federation. Recuperado de www.forumfed.org.
Arumugan, V.; Antony, J. y Douglas, A. (2012). Observation: a lean tool for improving the effectiveness of Lean Six Sigma. The TQM Journal, 24 (3), 275-287.
Bandyopadhayay, J. y Hayes, G. (2009). Developing framework for continuous improvement of patient care in United States Hospitals: a process approach. International Journal of Management, 26 (2), 179-185.
Barcena, A. (2020) Coyuntura, escenarios y proyecciones hacia 2030 ante la presente crisis de Covid-19. Observatorio COVID-19 para América Latina y el Caribe, CEPAL, informe del 3 de abril de 2020.
Bortolotti, T.; Boscari, S.; Danese, P.; Medina-Suni, H.; Rich, N. y Romano, P. (2018). The social benefits of Kaizen initiatives in healthcare: an empirical study. International Journal of Operation & Production Management, 38(2), 554-578.
Chiarini, A. (2011). Integrating lean thinking into ISO 9000: a first guideline. International Journal of Lean Six Sigma, 2(2), 96-117.
Coelho, S. M.; Pinto, C. F.; Calado, R. D.; Marotta, E.; Romano, E. y Silva, M. B. (2015). Lean Healthcare: process improvement in a cancer chemotherapy unit. Journal of Innovation and Health Care Management, 1(1), 1-9.
Coronavirus (2020). Página oficial de la Secretaría de Salud de México. Recuperado de https://coronavirus.gob.mx
Drotz, E. y Poksinska, B. (2014). Lean in healthcare from employees' perspectives. Journal of Health Organization and Management, 28 (2), 177-195.
Emiliani, M. L. (2003). Linking leaders' beliefs to their behaviors and competencies. Management Decision, 41(9), 238-247.
Frenk, J.; González-Pier, E.; Gómez-Dantes, O.; Lezana, M. A. y Knaul, F. (2007). Reforma integral para mejorar el desempeño del sistema de salud en México. Salud Pública de México, 49(1), 23-36.
Glaser, B. y Strauss, A. (1967). The discovery of grounded theory: strategies for qualitative research. New York: Aldine Publishing Company.
González-Aleu, F.; Van Aken, E.; Cross, J. y Glover, W. (2018). Continuous improvement project within Kaizen: critical success factors in hospitals. The TQM Journal, 30(4), 335-355.
Harrington, H. J. (1991). Business process improvement: The breakthrough strategy for total quality, productivity, and competitiveness. New York: McGraw Hill Professional.
Hernández-Torres, F. y Alcántara-Balderas, M. (2015). Niveles de evaluación de calidad. En La calidad de la atención de salud en México a través de sus instituciones. Biblioteca Mexicana del Conocimiento, 2(1), 11-27.
Herrera, R. (6 de febrero de 2020). Supervisa SFP hospitales de Neurología y Pediatría. Periódico Reforma. Recuperado de https://www.reforma.com/aplicacioneslibre/preacceso/articulo/default.aspx?__rval=1&urlredirect=https://www.reforma.com/supervisa-sfp-hospitales-de-neurologia-y-pediatria/ar1869295?referer=--7d616165662f3a3a6262623b727a7a7279703b767a783a--
Imai, M. (1986). Kaizen-The key to Japan's Competitive Success. New York: Random House.
Imai, M. (1989). Kaizen, la clave de la ventaja competitiva japonesa. México: CECSA.
Imai, M. (1997). Gemba Kaizen. New York: McGraw-Hill.
Ishijima, H.; Nishikido, K.; Teshima, N.; Nishikawa, S. y Abdul Gaward, E. (2020). Introducing the "5'S, Kaizen, TQM" approach into public hospitals in Egypt. International Journal of Health Care Quality Assurance, 33(1), 89-100.
Knaul, F. y Frenk, J. (2005). Health Insurance in Mexico: Achieving universal coverage through structural reform. Healh Affairs, 24(6), 1467-1476.
Kollberg. B.; Dahlgaard, J. y Brehmer, P. O. (2007). Measuring lean initiatives in health care services: issues and findings. International Journal of Productivity and Performance Management, 56(1), 7-24.
Lillrank, P. y Kano, N. (1989). Continuous Improvement-Quality Control Circles in Japanese Industry. Ann Arbor M.I.: University of Michigan.
Meneses-Falcón, C. (2020). Living in the brothel: Participant observation in hidden contexts. The Social Science Journal, 1-15. doi: 10.1016/j.soscij.2019.04.010.
Miles, M. y Huberman, M. (1994). Qualitative Data Analysis, a method source book. London: SAGE.
Newitt, D. J. (1996). Beyond BPR & TQM - Managing through processes: Is kaizen enough? Industrial Engineering. London: Institution of Electric Engineers.
Ohno, T. (1988) Toyota Production System. Tokyo: Diamond.
OMS (2020). Recuperado de https://www.who.int/es/emergencies/diseases/novel-coronavirus-2019?gclid=Cj0KCQjw3Nv3BRC8ARIsAPh8hgKOrdy-jteo6aA8NgZ_mGV_ yLF_JZv8end9HJ6rumY6Pqa4bXJ7u2IaAqNNE ALw_wcB. Página consultada el 26 de junio de 2020.
Pedler, M. y Abbott, C. (2008). Lean and learning: action learning for service improvement. Leadership in Health Services, 21(2), 87-98.
Ritchie, J. y Lewis, J. (2003). Qualitatative Research Practices: A guide for social science student and researchers. Thousand OAK: Sage.
Robledo, Z. (2019). La salud es un ideal alcanzable cuando se tiene la osadía de hacer historia. Artículos del Instituto Mexicano del Seguro Social (IMSS), 1(303), 1-2.
Soberón-Acevedo, G. y Valdés-Olmedo, C. (2007) Evidencias y salud: ¿hacia dónde va el sistema de salud en México? Salud Pública de México, 49(1), 5-7.
Spear, S. J. (2005) Fixing health care from inside, today. Harvard Business Review, 83(8), 78-91.
Suárez-Barraza, M. F. (2007). Kaizen, la filosofía de mejora continua e innovación incremental detrás de la Administración por Calidad Total. México: Panorama.
Suárez-Barraza, M. F. (2019). Innovación de procesos en las organizaciones, el tercer principio rector del kaizen [tercera edición]. Toluca: Ágora Medios.
Suárez-Barraza, M. F.; Ramis-Pujol, J. y Kerbache, L. (2011). Thoughs on Kaizen and its evolution: three different perspectives and guiding principles. International Journal of Lean Six Sigma, 2(4), 288-308.
Suárez-Gómez, N. I. (2020). Dibujos de la innovación de procesos para el Hospital Caso "A".
Yin, R. (2003). Case Study Research, Design and Methods. Thousands Oaks: Sage.
Yin, R.K. (2017). Case study research and applications: Design and methods [6th ed.]. Thousand Oaks: Sage.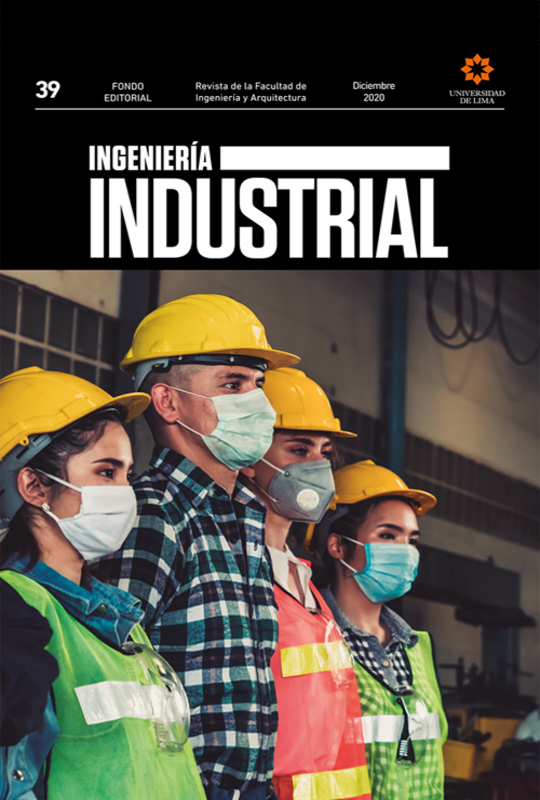 Cómo citar
Suárez-Barraza, M. F. (2020). Implementación del "Kaizen-Innovación de Procesos-Jidoka" para hacer frente al COVID-19: un caso de estudio en un hospital público. Ingeniería Industrial, (039), 75-96. https://doi.org/10.26439/ing.ind2020.n039.4916
Sección
Calidad y medio ambiente
Derechos de autor 2020 Ingeniería Industrial
Esta obra está bajo licencia internacional
Creative Commons Reconocimiento-SinObrasDerivadas 4.0
.
Las obras se publican en la edición electrónica de la revista bajo una licencia Creative Commons Attribution 4.0 International License (BY)
Usted es libre de:
Compartir — copiar y redistribuir el material en cualquier medio o formato
Adaptar — remezclar, transformar y construir a partir del material
para cualquier propósito, incluso comercial.
Bajo los siguientes términos: