Las ciudades, el cambio climático y la energía incorporada
Palabras clave:
energía incorporada, ciudades, cambio climático, urbanismo, CO2
Resumen
El desarrollo de nuestras urbes es el causante del más del 70 % del dióxido de carbono (CO2) que se produce y posee un gran impacto sobre el medio ambiente. Las consecuencias de estas formas de "desarrollo" ya están presentes y se incrementarán en las siguientes décadas. La reducción del impacto depende de diversos factores, entre ellos, de la energía incorporada como una posibilidad en la arquitectura y el urbanismo, a fin de ser utilizada como una herramienta general para toda infraestructura. Bajo este criterio, la energía incorporada puede constituirse en un nuevo punto de partida que formule cuestionamientos respecto de los planteamientos arquitectónicos y urbanísticos tradicionales, a partir de nuevas prioridades materiales y sociales.
Descargas
La descarga de datos todavía no está disponible.
Citas
Anderson, D. (23 de enero del 2019). As Environmental Catastrophe Unfolds, We Need Architecture that is More than Just Green. Dezeen. https://www.dezeen.com/2019/01/23/darran-anderson-opinion-modular-adaptivearchitecture-environment-anthropocene/
Architects Declare. (30 de mayo del 2019). UK Architects Declare Climate and Biodiversity Emergency. https://www.architectsdeclare.com/
Block, I. (24 de marzo del 2018). New Material Made from Desert Sand Could Offer Low-Carbon Alternative to Concrete. Dezeen. https://www.dezeen.com/2018/03/24/desert-sand-could-offer-low-carbon-concrete-alternative/
Block, I. (20 de septiembre del 2019). Architects Should Give Up Concrete Say Experts at Architecture of Emergency Climate summit. Dezeen. https://www.dezeen.com/2019/09/20/concrete-climate-change-architecture-emergency/
Chakrabarti, V. (2013). A Country of Cities: A Manifesto for an Urban America. Metropolis Books.
Construcción y Vivienda. (2 de agosto del 2020). Plan de Desarrollo Urbano Lima 2021- 2040 identifica más de 40 centralidades urbanas en proceso de formación. Periódico Construcción y Vivienda. https://www.construccionyvivienda.com/2020/08/02/plan-de-desarrollo-urbano-lima-2021-2040-identificamas-de-40-centralidades-urbanas-en-proceso-de-formacion/
Fairs, M. (17 de octubre del 2018). Dutch Design Week Anthropocene Design Opinion. Dezeen. https://www.dezeen.com/2018/10/17/dutch-design-week-anthropocene-design-opinion/
Friedlingstein et al. (2020). The Global Carbon Budget 2020, Earth System Science Data. Global Carbon Atlas. http://globalcarbonatlas.org/en/CO2-emissions
Giles, C., y Song, W. (12 de octubre del 2020). US election 2020: What is Trump's record on the environment? BBC News. https://www.bbc.com/news/election-us-2020-54103861
Harper, P. (11 de junio del 2019a). We're Seeing an Unprecedented Mobilisation of Architects in the Fight Against Climate Change. Dezeen. https://www.dezeen.com/2019/06/11/radical-architecture-climate-changeopinion-phineas-harper/
Harper, P. (25 de septiembre del 2019b). Our Dependency on Growth, Like on Concrete, Must be Abolished. Dezeen. https://www.dezeen.com/2019/09/25/oslo-architecture-triennale-architecture-degrowth-phineas-harper/?li_source=LI&li_medium=bottom_block_1
Kvaal, I. (2019). Powerhouse Brattørkaia, por Snøhetta Architects [Fotografía]. Arquine. https://www.arquine.com/powerhouse-brattorkaia/
Latour, B. (26 de marzo del 2020). Is This a Dress Rehearsal? Critical Inquiry. https://critinq.wordpress.com/2020/03/26/is-this-a-dress-rehearsal/
Lezama, C. (4 de mayo del 2017). Vistas aéreas de Lima, centro financiero, construcciones, edificios, viviendas [Fotografía]. Andina. Agencia Peruana de Noticias. https://andina.pe/ingles/noticia-peru-limadistricts-withhighestdemandfor-online-housingsearch-665568.aspx
Sabina, R. (9 de agosto del 2018). Carrots Could be Key to Stronger Concrete. Dezeen. https://www.dezeen.com/2018/08/09/carrots-concrete-stronger-lancaster-university-technology/
Sabina, R. (7 de octubre del 2019). MIT Researchers Develop Emissions-Free Cement Production Process. Dezeen. https://www.dezeen.com/2019/10/07/mitresearchers-emissions-free-cement/
Sotomayor-Cabrera, A., y Power-Porto, G. (2019). Tecnologías limpias y medio ambiente en el sector industrial peruano. Casos prácticos Perú. Universidad de Lima, Fondo Editorial.
Thunberg, G. (25 de enero del 2019). Our House is on Fire. The Guardian. https://www.theguardian.com/environment/2019/jan/25/our-house-is-on-fire-gretathunberg16-urges-leaders-to-act-on-climate
Zen Stitching. (8 de mayo del 2020). What Is Boro Stitching. https://zenstitching.ca/blog/2020/5/8/what-is-boro-stitching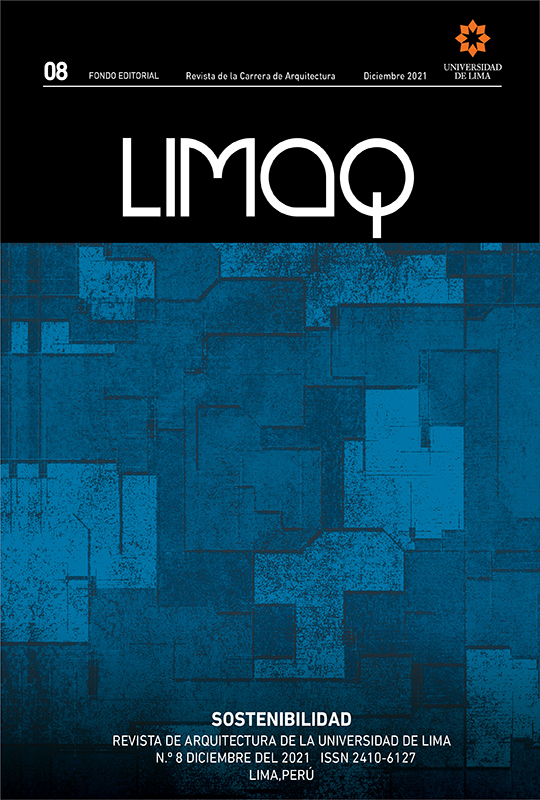 Cómo citar
Chumpitaz Requena, F. (2021). Las ciudades, el cambio climático y la energía incorporada. Limaq, (008), 13-28. https://doi.org/10.26439/limaq2021.n008.5549
Esta obra está bajo licencia internacional
Creative Commons Reconocimiento 4.0
.